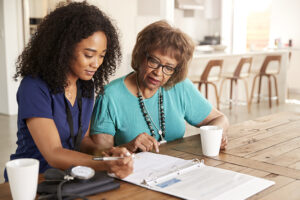 WORKING TO MAKE THE HOME A CLINICAL SITE OF CARE
Moving Health Home (MHH) is a coalition made up of stakeholders working to change federal and state policy to enable the home to be a clinical site of care. Prior to the COVID-19 pandemic, disparate groups of health care innovators sought to drive more care to the home, but competing policy priorities, coverage debates and the intractable nature of fee-for-service payment made progress difficult.
Today, we have an opportunity to shape the future of health care as policymakers, thought leaders, providers, health plans and patients absorb the lessons and experiences of the COVID-19 pandemic. We don't have to go back to our old normal. MHH members believe the home can and should be part of the future. The advent of widespread use of telehealth, remote patient monitoring, virtual disease prevention and disease management, caregiver support, medical record sharing, and new practices by providers and patients can make this possible.
Home-based care affords the opportunity to not only deliver important clinical care, but also approach care in a more wholistic way. Fall risk assessments, nutrition evaluations, medication reconciliation, caregiver support needs, functional limitations can all be evaluated more fully in a home-based environment. New remote monitoring innovations can also equip patients and caregivers with the ability to keep their providers updated on their conditions.