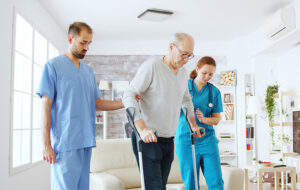 Home-based care refers to a spectrum of health services provided in the home or place of dwelling, such as hospital-level or acute care, primary care, skilled nursing and therapy services, and hospice. Services may include routine physician visits, chronic disease management (such as remote patient monitoring), laboratory and diagnostic services (such as blood draws and x-rays), home infusion (such as antibiotics), wound care, physical or occupational therapy, in-home dialysis, and other care provided in the home setting rather than a facility, and regardless of age and health conditions.
Although "home-based care" is traditionally associated with services provided by home health agencies, home health services are just a small slice of "home-based care" services.
WHAT HOME-BASED CARE MODELS HAVE BEEN TESTED BY THE CENTERS FOR MEDICARE & MEDICAID SERVICES (CMS)?
Originally authorized in the Affordable Care Act, the Independence at Home Model Demonstration tests the effectiveness of delivering comprehensive primary care services at home and if doing so improves care for Medicare beneficiaries with multiple chronic conditions. Primary care practices provide home-based primary care to targeted chronically ill beneficiaries. Participating practices make in-home visits tailored to an individual patient's needs and coordinate their care. CMS will track the beneficiary's care experience through quality measures. Practices that succeed in meeting these quality measures while generating Medicare savings will have an opportunity to receive incentive payments after meeting a minimum savings requirement. Originally launched in 2011, the performance period for the Independence at Home Model Demonstration has been extended twice by Congress and is now scheduled to end on December 31, 2023.
CMS has also announced several waivers of existing regulations to facilitate hospital-based care in the home during the COVID-19 pandemic.
Hospital Without Walls Blanket Waiver
In March 2020, CMS announced the Hospital Without Walls program, which provides broad regulatory flexibility for hospitals to provide services in locations beyond their existing walls. Under this initiative, CMS waived several Medicare Conditions of Participation at 42 CFR Part 482 and provider-based rules at 42 CFR §413.65 on a national basis. These so-called "blanket" waivers give hospitals flexibilities to respond to the COVID-19 PHE and to furnish care in alternative care sites, including retrofitted locations such as tents, gymnasiums, and the patient's home.
Acute Hospital Care at Home Individual Waiver
CMS is also accepting waiver requests to waive §482.23(b) and (b)(1) of the Hospital Conditions of Participation, which require nursing services to be provided on premises 24 hours a day, 7 days a week and the immediate availability of a registered nurse for care of any patient.
WHAT EVIDENCE SUPPORTS HOME-BASED CARE?
Patient Satisfaction
MHH released a national consumer survey, conducted by Morning Consult, that demonstrates widespread support by adults for receiving care in their homes from across the care continuum.

Americans Are Comfortable Receiving Care in the Home

70 percent of those surveyed are comfortable with care in the home.

Americans Are Confident in the Quality of Receiving Care in the Home

73 percent of adults are confident in the quality of receiving care in the home.
85 percent of caregivers are confident in the quality of receiving care in the home.
88 percent of adults were satisfied with the clinical care services they received in the home.

Americans Prefer and Would Recommend Care in the Home

85 percent of people who have had experience with care in the home would recommend it to family and friends.

Americans Support Expanded Care in the Home

A bipartisan majority of consumers say it should be a priority for the federal government to increase access to clinical care in the home (73 percent Democrats, 61 percent Republicans).

An AARP survey found that three in four adults 50 years and older would prefer to age in their homes and communities.
Quality & Cost Savings
CMS estimates that home health care in Medicare saves at least $378 million a year in just the nine states that are part of the Home Health Value Based Purchasing (HHVBP) innovation program, through a reduction on unnecessary hospitalizations and SNF usage as a result of greater quality improvements in the HH industry.
Home-based care is also a more cost-effective option for long-term care. The annual cost for a private room at a nursing home is $91,250, more than twice that of the average cost of $45,000 to receive home-based care services.
A study found that in-home chronic disease management services may have reduced healthcare spending for patients with certain diseases by nearly $30,000.
Research shows that home-based care can reduce the likelihood of hospital readmissions and reduce mortality. Recent data shows that patients who utilize home-based care services within 14 days of discharge from an acute care facility are about 25% more likely to avoid readmission within 30 days of discharge.
In a systematic review of heart failure patients published in the Annals of Internal Medicine, home nursing visits reduced readmissions and mortality for as long as six months.
A series of studies found evidence to support the implementation of multidisciplinary home health care to reduce hospital readmission among patients ≥ 65 years old. The most effective outcomes were found with treatment lasting 6 months; however, similar results were found with home-based care lasting 1 month. Notably, home-based care improved patient compliance, physical and emotional quality of life, and patient satisfaction.